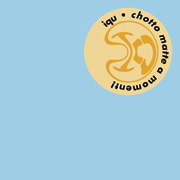 Chotto Matte a Moment!
released October 1998
on K Records
notes
Available on cd and double lp. The cd features a hidden track.
track listing
1. Flower and Moon
2. Yopparai (a Drunkard Who Fell From Heaven)
3. Can't You Even Remember That?
4. Temptation
5. Whistle
6. Aluet
7. Done the Twist…
8. Bouncing Baby Buddah
9. 9 Untitled
album credit
All songs written by IQU. Produced by IQU and Kento Oiwa. Recorded at Dub Narcotic by Calvin Johnson. Mastered at Bandit Audio by Mark Greer.
instruments
Michiko: keys
Kento: others
Aaron Hartman: standup bass