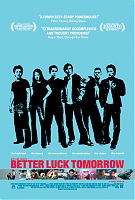 A film by Justin Lin
Better Luck Tomorrow is an independently produced feature film starring a mostly Asian American cast. It made history twice when it premiered at the 2002 Sundance Film Festival, by being the first ever Asian American film to be picked-up for distribution, and the first ever acquisition by MTV Films.
The soundtrack features songs from Chotto Matte a Moment!