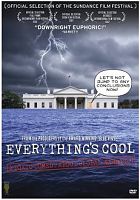 A film by Daniel Gold, Judith Helfand, Chris Pilaro and Adam Wolfensohn
EVERYTHING'S COOL is a film about America finally "getting" global warming in the wake of the most dangerous chasm ever to emerge between scientific understanding and political action. While industry funded nay-sayers sing what just might be their swan song of pseudo- scientific deception, a group of self-appointed global warming messengers are on a high stakes quest to find the iconic image, the magic language, the points of leverage that will finally create the political will to move the United States from its reliance on fossil fuels to the new clean energy economy – AND FAST. Hold on… this is bigger than changing your light bulbs.
The soundtrack features songs from Sun Q.